DISCOVER YOUR CATERER
Over 25 year-experience at your service
A reliable and tightly-knit team of
17 employees year-round and 4 apprentices
The team actually comprises 17 employees and 4 apprentices, plus many part-time seasonal employees to help during the summer and during the busy Cannes events. A tightly-knit team built by Jérôme Ravel who has known most of his team members for a long time.
Highly competent chefs who demonstrate their experience, talent and creativity every day. The chefs are assisted by a highly effective and dedicated team. Administrative assistants, linen maids, delivery people are also required to perform work and quality service. They all work closely and in a friendly atmosphere to deliver the best and be as efficient as possible.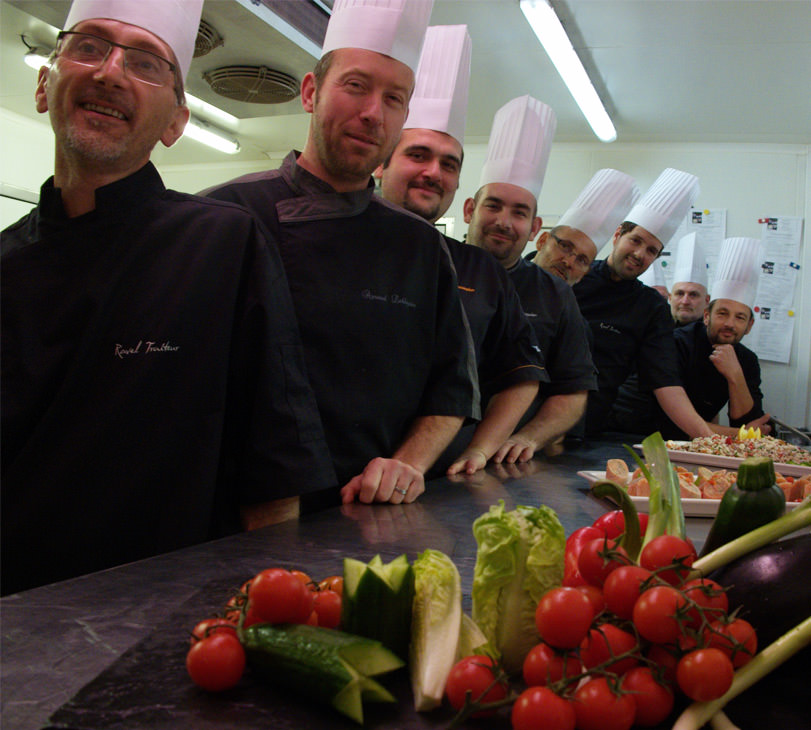 Because quality is the key to his success, Jerôme has surrounded himself with select team members
Experienced and recognized chefs looking for new flavours, innovative techniques, new concepts
All our products are cooked in a production kitchen lab that has been designed in accordance with European food hygiene and safety regulations, guaranteed by:
Proper temperatures and quality at all stages
Product identification, labeling and traceability
Maintenance of the cold chain
Bacteriological analysis of the products at all stages of production and according to current standards
Development of written procedures for all operations
The veterinary approval enables us as a catering business to provide our customers with a quality charter. To obtain this veterinary certification, we sought the services of a consultant/auditor, who regularly comes on site and is specialized in HACCP standards.
A full traceability process has been implemented for the proper monitoring of goods, from the moment they are delivered to us until their final sale. Furthermore, all stages of receiving goods, packaging, processing and labeling with a DLC are recorded in various documents.